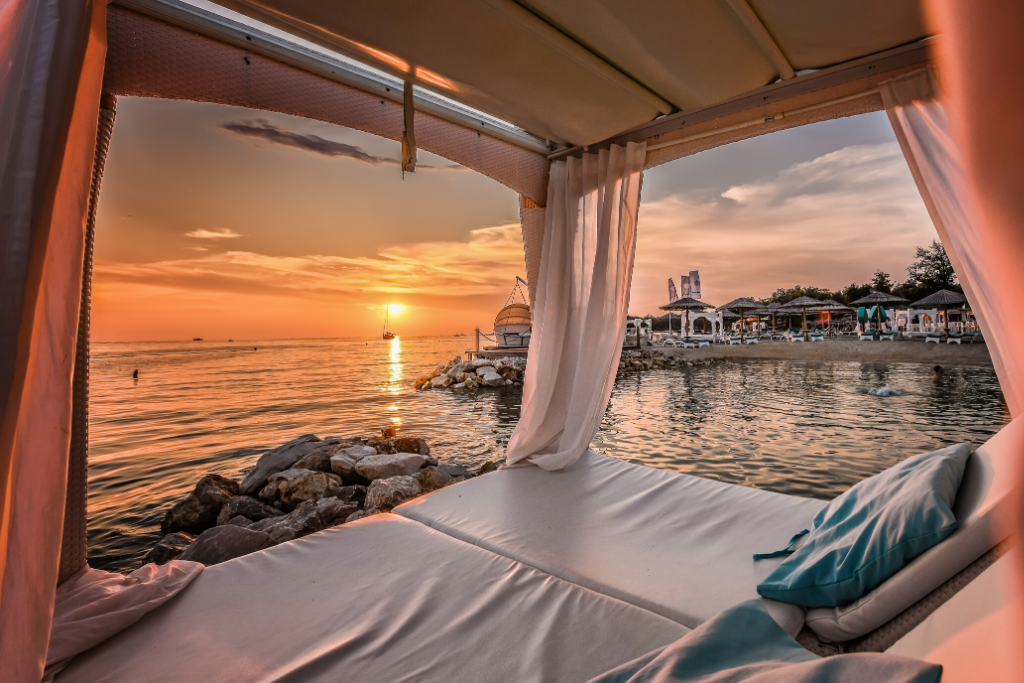 Ne znam imate li vi omiljenu plažu kojoj se uvijek rado vraćate ili ste jedni od onih koji svake godine vole istražiti nešto novo, ali ovo je jedna od plaža koju bih preporučila svima. Svakome je određena plaža omiljena iz nekih osobnih razloga, ali ako gledamo na sadržaj i ponudu, ekipa koja je uredila ovu plažu, dala si je posebno truda. 
Polidor Beach je prekrasno uređena plaža, nastala prvenstveno kao dio ponude kampa, ali je danas otvorena svima. Nalazi se u mjestu Funtana u Istri i posjetiteljima nudi sve što bi im moglo zatrebati za idealan ljetni odmor. Pazilo se na svaki detalj pa je osim prekrasnog uređenja i ponuda sadržaja na stvarno visokoj razini. S obzirom da sam vam htjela predstaviti konkretne razloge za posjetu, poslala sam pitanja timu koji stoji iza ovoga. 
Zašto ste se uopće odlučili na ovakvo ulaganje? 
Prije svega moram naglasiti da je ova plaža u privatnom vlasništvu jedne divne istarske obitelji Ukušić, koja je zahvaljujući svojoj ambiciji i energiji uspjela napraviti nešto tako savršeno.
"Pa prvo nam je ideja bila da napravimo izlaz na more za naše goste kampa jer je kamp od mora udaljen 800 metara, pa je plaža otvorena 2015. godine. Zapravo smo za uređenje mislili samo na sve one stvari koje bismo i mi željeli da nam se ponudi kad smo na odmoru. Ispalo je da takvih plaža na području Istre nedostaje i da ima dosta gostiju koje bi to zanimalo. Postepeno smo dodavali nove sadržaje, a sve smo uredili sami, bez arhitekta i dizajnera. Trenutno nas ima 25 zaposlenih, a preko sezone oko 40 – 50 ljudi". 
Što se nudi gostima i po kojim cijenama? 
Ulaz na plažu je besplatan svima, plaća se isključivo konzumacija hrane i pića, i najam ležaljki i baldahina. Što se tiče hrane i pića, nudimo jednostavnu hranu i ponudu restorana "Grill Nando" koji nudi raznovrsnu tradicionalnu ponudu.
Ostala ponuda uključuje poseban VIP tretman, vikednom imamo DJ-a često u pratnji električne violine, saksofona ili benda, sportske sadržaje, parking, dječje plaže, plaže za pse i tako dalje. 
Imate kakve planove i bojite li se slabije sezone? 
Planova naravno ima, neki su već i ostvareni, kao novi DJ pult, opremljena je VIP plaža i napravili smo vodeni grad. Sami kamp trenutno može primiti do 300 gostiju, a to planiramo povećati u 2021. godini. Kvalitetu koju imamo planiramo samo povećavati jer smo na to ponosni.
Dobili smo 2017. godine nagradu za najbolji mali kamp u Hrvatskoj, ove godine smo dobili Best camping in Croatia, prvo mjesto na TripAdvisoru i slično. Za sezonu mislim da će biti u redu. Imali smo dosta otkazanih rezervacija, ali sad se evo polako sve vraća u normalu i počeli smo popunjavati sve prazne kapacitete. Zapravo smo dosta optimistični. 
Ako još uvijek tražite mjesto na kojem ćete ove godine provesti godišnji odmor ili samo možda neki produženi vikend, svakako provjerite Polidor. Ostavljam vam još samo poveznicu na njihov Instagram, možda ćete se bolje uživjeti u odmor na ovakvom mjestu s odličnim koktelom u ruci. 
Pratite ih na Instagramu: Polidorbeach